De Russische Dwerghamster (Phodopus Sungorus) komt van nature uit Oost-Kazakstan en het zuidwesten van Siberië. De Russische Dwerghamster wordt ook wel Siberische Dwerghamster genoemd of Dzoengaarse Dwerghamster.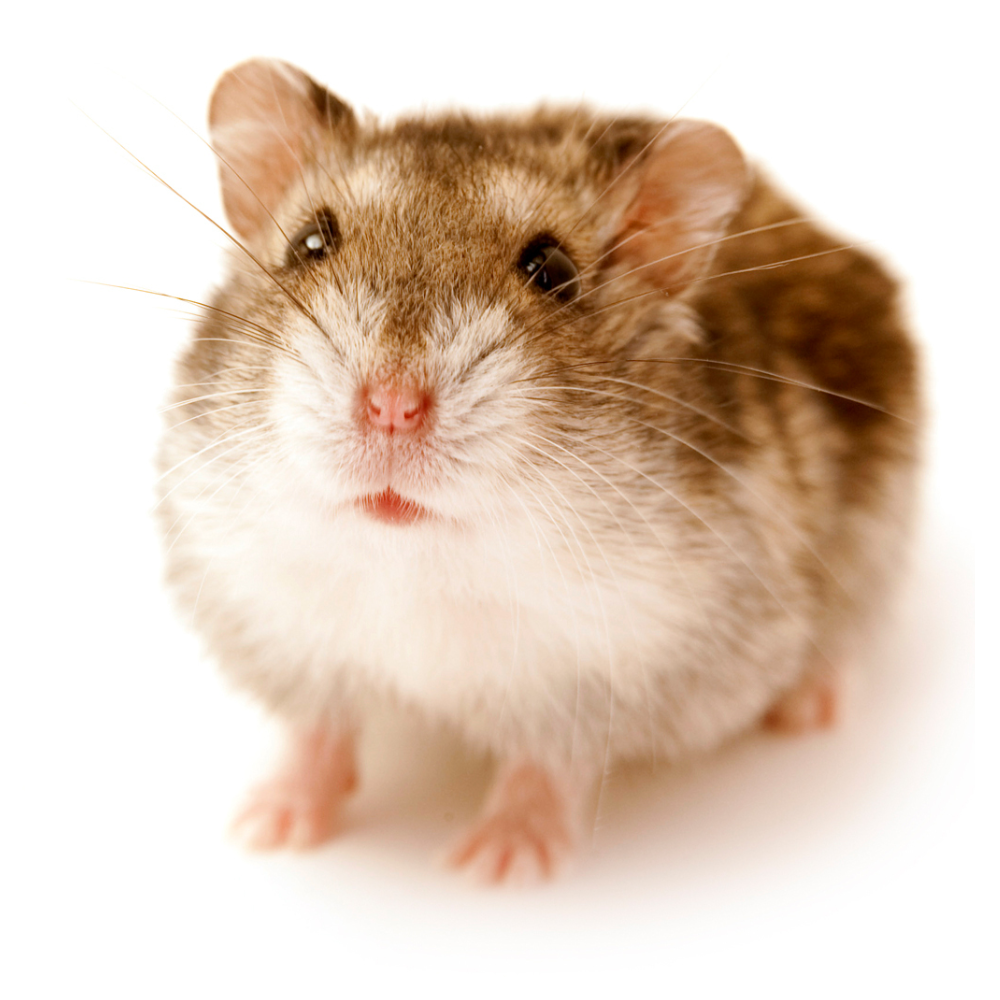 Kop-romplengte: tot 13 cm
Lichaamsgewicht: tussen de 45 en 65 gram afhankelijk van de lichaamslengte
Levensverwachting: 1,5 - 2 jaar
Russisch Dwerghamsters zijn schemer actief, dat wil zeggen dat ze in de avond en de vroege ochtend het het meest actief zijn. De dieren slapen echter cyclisch, dat wil zeggen een paar uurtjes slapen wordt afgewisseld met een paar uur wakker zijn, hierdoor zijn deze dwerghamsters ook regelmatig overdag wakker.
Tam en vertrouwd maken met de Russisch Dwerghamster
Lees je altijd goed in voordat je besluit een Russische Dwerghamster te nemen. Het zijn hele leuke huisdieren die regelmatig wakker zijn, waardoor ze overdag ook te zien zijn. Dit kan vooral leuk zijn voor kinderen. Hoewel de Russische Dwerghamster er heel knuffelig uitziet, houdt hij niet altijd van knuffelen en opgepakt worden vind hij zeker in het begin heel eng. Omdat de dieren geen diepte zien kunnen zo van je hand afrennen als ze schrikken, het is dus belangrijk als kinderen de dieren hanteren dat er altijd een ouder aanwezig is die kan helpen en ondersteunen.
Een nieuwe bewoner moet met name de eerste tijd rustig benaderd worden. Het dier moet eerst vertrouwd raken met zijn eigen verblijf, zich er veilig in voelen alvorens deze op mensen durft af te stappen. Natuurlijk zitten er ook durfals tussen die meteen op je aflopen en en sociaal zijn, maar de meeste hamsters zijn toch wel een beetje schuw de eerste tijd. Geef het dier de tijd en probeer rustig contact te maken door tegen de hamster te praten. Wat lekkers uit de hand geven werkt vaak ook goed om het vertrouwen van de dieren te winnen. 
Tip! Russische Dwerghamsters zijn dol op gedroogde meelwormen
Huisvesting van de Russische Dwerghamster
Russische Dwerghamsters hebben een ruim verblijf nodig van minimaal 80 x 40 cm (LICG). Een goed verblijf geeft de dieren de mogelijkheid om te graven. In het wild bouwen Russische Dwerghamsters prachtige gangenstelsels en dat willen ze in gevangenschap ook graag blijven doen. Een burcht in het wild ligt op een diepte van minimaal 1 a 2 meter en is ongeveer 1 meter lang. De diepte van de burcht hangt af van de omgevingstemperatuur. Als de temperatuur stijgt, dan gaat de dwerghamster dieper onder de grond graven om de koele aarde te bereiken, een soort natuurlijke airconditioning.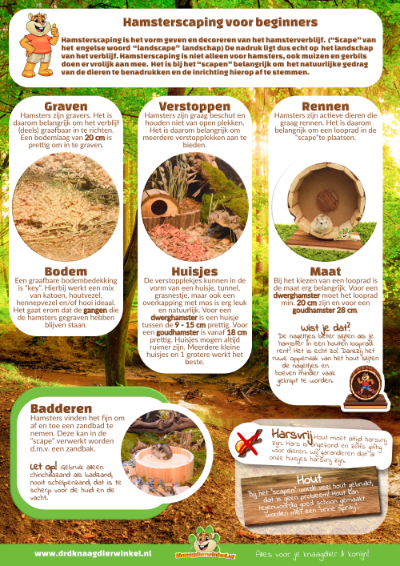 Hamsterscaping is daarom erg leuk voor Russische Dwerghamsters.
Bij ons thuis vertaald zich dit in een ruim verblijf met graafmogelijkheden! Hierbij is een terrarium de beste keus dankzij het gesloten karakter. Wel is het belangrijk dat een terrarium een goede ventilatie mogelijk maakt, dus bij voorkeur twee roosters heeft (boven en onder). Dit is met name in de zomer belangrijk als de temperaturen oplopen tot boven de 25°C.
Russische Dwerghamsters kunnen slecht tegen hoge temperaturen in combinatie met een hoge luchtvochtigheid, daarom wordt een temperatuur tussen de 20 - 24°C aangeraden en een luchtvochtigheid onder de 70%. Voor het meten van deze waarden kun je een hygrometer gebruiken.
Huisje voor een Russische Dwerghamster
Russische Dwerghamsters hebben geluk! want bijna alle huisjes die voor hamsters gemaakt worden hebben een goed formaat voor deze dwerghamstersoort. Russische Dwerghamsters zijn prooidieren en houden er niet van om open en bloot door het verblijf te lopen, als ze af en toe een schuilhuisje tegenkomen voelen ze zich al een stuk veiliger. Ons advies is daarom om in ieder geval twee huisjes voor de hamster te hebben. Een huisje waar de dwerghamster in kan slapen en nog eentje waar hij in kan schuilen. In ieder geval één van de twee huisjes moet groter zijn zodat de dwerghamster zijn voedselvoorraden er ook kwijt kan. Het kunnen wegleggen van de voedselvoorraden kan voor stress bij de dieren zorgen.
Looprad voor een Russische Dwerghamster
Het hamster looprad is een zeer belangrijk onderdeel van de inrichting van het dwerghamsterverblijf. Russische Dwerghamsters zijn actieve dieren die graag rennen, vaak 's nachts. Dit komt doordat ze van nature in de nachtelijke uren veel rennen in de zoektocht naar voeding. Dit zit dus als het ware in hun DNA. Daarnaast is uit wetenschappelijk onderzoek gebleken dat hamsters vrolijk worden van het rennen in een looprad, de spijsvertering wordt bevorderd en de dieren in het algemeen in een goede conditie blijven.
Een looprad voor een Russische Dwerghamster moet een diameter hebben van minimaal 20 cm en bestaan uit een dicht loopvlak.
Bodembedekking voor de Russische Dwerghamster
Het is belangrijk dat de bodembedekking voor Dwerghamsters graafbaar is, dat wil zeggen dat ze er gangetjes en holletjes in kunnen maken, die bij voorkeur blijven staan. Dit kan bereikt worden door bodembedekking te kiezen die op zich al graafbaar is of bodembedekkers met elkaar mixen waardoor deze graafbaar zijn. Een voorbeeld van een graafbare bodembedekking is bijvoorbeeld de Humus en het Holenzand, maar ook Katoen & Katoen. Een leuke mix is bijvoorbeeld de mix van Katoen & Hennepvezel, Katoen & Houtvezel of een mix van Houtvezel, Hennepvezel en Hooi. Bodembedekkers als Back 2 Nature zijn niet geschikt want daar kunnen de dieren niet in graven. Een ideale hoogte van de bodembedekking om in te graven ligt rond de 20 cm.
Lees hier verder over de Russische Dwerghamster >