Mushroom Cottage for small rodents
Gratis verzending binnen Nederland vanaf €35,-
Gratis verzending naar België vanaf €45,-
Altijd 14 dagen bedenktijd
Veilig en achteraf betalen

Ordered before 4 pm, delivered tomorrow!
Information
Mushroom Cottage for small rodents
The Mushroom House is a cozy and cozy cottage for small rodents such as, Muisjes and Dwerghamsters. The cottage is made of in the shape of a mushroom. The Mushroom House has an open bottom and one entrance on the front. The opening at the top is only 3 cm.
Details
Dimensions: 13 x 12 x 13 cm
Opening front: 6 cm
Opening top: 3 cm
Material: synthetic resin (polystyrene)
Specifications
| | |
| --- | --- |
| Afmetingen: | 0 |
| Openingen: | - |
| Materiaal: | - |
| Open Bodem: | - |
| Geschikt voor: | Knaagdieren |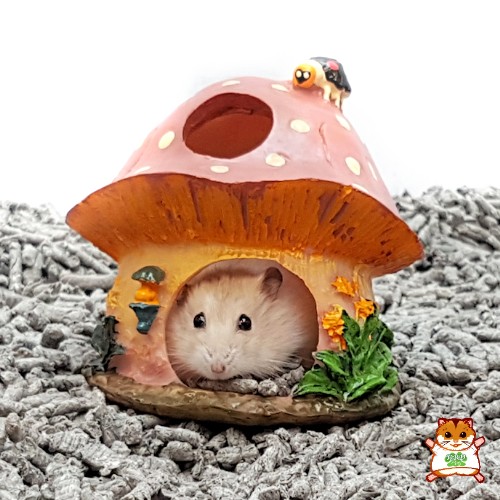 Vooraf had ik al een review gemaakt voor dit huisje maar ondertussen heeft een van men Roborovskis het geweldige idee gekregen om zich door het kleine gaatje bovenaan te proberen wurmen en hij heeft dus halverwege klem gezeten!
Al bij al is het goed gekomen met hem maar hij had toch 2 lelijke wondjes van waar hij klem zat (beide flanken) en duurde enkele weken voor deze genezen waren.
Dus prima formaat voor Roborovskis maar wel een serieus risico door het kleine gaatje bovenaan.
Het huisje is zeer geliefd en staat erg schattig bij de inrichting van een kooi. Hoewel het wat aan de kleinere kant is voor de dagelijkse slaapjes, is het wel leuk om bijvoorbeeld wat eten of snoepjes erin te verstoppen. Zo is er weer een leuke interactie met het huisje :)
elsjedevisser
05 August 2018
Suuuuperschattig huisje maar meer ter decoratie want het is erg klein. Ik heb het gaatje in het dak dichtgepropt met stijf opgerold karton. Ik ben namelijk bang dat als mn dwerghamster haar hoofdje door het gaatje perst ze er niet meer uit kan. Net een beetje n gevaarlijke afmeting
Prima voor een Roborovski maar te klein voor andere dwerghamsters.
Jammer want het is een zéér mooi huisje.
Ik heb dit huisje voor mijn Muisjes, heel leuk!